Kraft Heinz: A Big Dividend But No Growth – The Kraft Heinz Company (NASDAQ:KHC)
4 min read
Shares of Kraft Heinz (KHC) are among consumer staples companies being beaten up as sales growth slowed and companies are reluctant to pass on rising input costs to consumers. The company recently reported Q3 fiscal year (FY) 2018 results on November 1 which analysts and investors quickly shunned, sending the shares down around 10%. Sales for the first nine months were up only 0.3% year-over-year (YoY) with operating income down a whopping 30.4%. Management was racking up excuses on the conference call from increased input costs, investments in "customer service", and investments in "strategic capabilities". This recent fall has left Kraft Heinz's shares trading around 3-year lows which has pushed its dividend yield up to 4.8%, attracting value investors to the name. Investors looking for more than a big dividend though might want to look elsewhere given growth concerns at the company.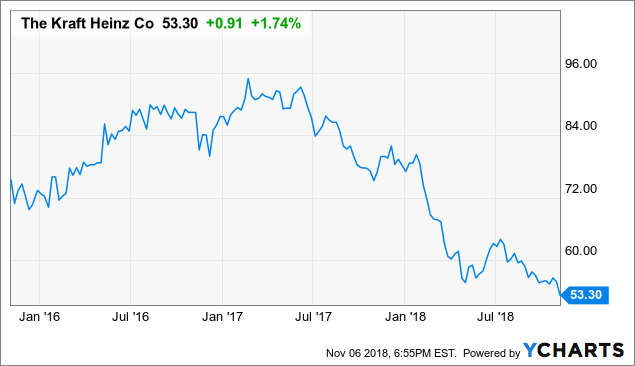 Changing Consumer Tastes
Part of the issues facing Kraft Heinz and other consumer packaged goods companies is that consumers are looking for healthier choices in their lifestyle, competition from private label and upstart brands is intense, and pricing pressure due to rising costs have been slow to be passed on to consumers. CPG giants Nestle and Unilever have recently begun to raise prices and Kraft Heinz might be able to follow suit in the coming quarters. However, my fear is that many of Kraft Heinz brands are categories and are seeing the knife's edge of these new consumer trends. From easily commoditized products such as Planters nuts and Mac and Cheese pasta to highly processed products such as Oscar Mayer meats, Kool-Aid, and Lunchables, Kraft Heinz faces an uphill battle to grow sales in my opinion.
These hardships are evident by Kraft Heinz's declining organic sales in the U.S. and Canada for the nine-month period ended in September as well as over FY 2017. While the company's Rest of World and Europe segments continue to grow, having their largest market the U.S. in decline has continued to keep overall organic growth nearly flat.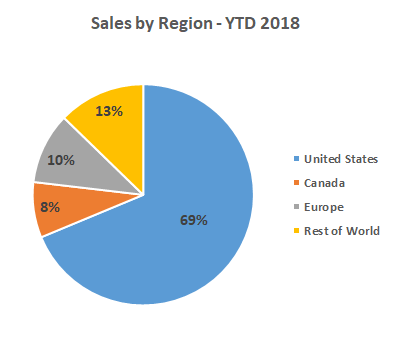 Source data from Q3 2018 Results
Getting a Sense of Valuation
I was pretty disappointed as I searched through Kraft Heinz's prior full year results as the company did not break out an adjusted net income or EPS figure which backed out the one-time benefits from U.S. tax reform. Many U.S. companies made this adjusted non-GAAP figure front and center in their presentations and press releases but Kraft Heinz didn't give investors that visibility and instead made them work for it.
If we take the midpoint of management's guided effective, ongoing tax rate of 22% and apply it to FY 2017 Income before Tax of $5,530M, we would get an adjusted $4,313M Net Income figure. At today's market capitalization of $65.2B, this would mean Kraft Heinz trades at 15.1x last year's net income adjusted with management's guided tax rate. This is not exactly cheap given the fact that growth at the company has been next to non-existent but still represents a 6.6% earnings yield. Given the degree to which the share price has already fallen over the past couple of years, it goes to show in my opinion just how overhyped the company may have been in previous years due to 3G Capital and Warren Buffett's investment.
How About the Debt and Dividend?
I have read many investors and analysts complain about the debt, but with interest coverage at 5.48x for FY 2017, Kraft Heinz's debt load is not too aggressive in my opinion, especially for a consumer staples company. Dividends in FY 2017 of $2,888M were well covered by the adjusted net income of $4,313M (calculated earlier) for a payout ratio around 70%. That being said, another big 3G investment with a fair amount of debt, Anheuser-Busch InBev, recently cut their dividend to prioritize deleveraging. One might easily imagine Kraft Heinz making a similar decision to prioritize investments into new growth areas.
Takeaway
Kraft Heinz is having a hard time adjusting to changing consumer preferences. While they have been able to grow sales in their Europe and Rest of World segments, their core U.S. market has continued to decline. The valuation at 15.1x earnings looks relatively fair for a consumer staples company with next to no growth and the dividend yield of 4.8% is certainly appealing to income oriented investors. If continued growth from Kraft Heinz's smaller geographic segments can continue to make them more important segments for the company, then patient dividend investors might be sitting pretty in a few years' time.
If you enjoyed this article and would like to read more of my work, click the follow button at the top of the page to receive notifications when I post a new article!
Disclaimer: While the information and data presented in my articles are obtained from company documents and/or sources believed to be reliable, they have not been independently verified. The material is intended only as general information for your convenience, and should not in any way be construed as investment advice. I advise readers to conduct their own independent research to build their own independent opinions and/or consult a qualified investment advisor before making any investment decisions. I explicitly disclaim any liability that may arise from investment decisions you make based on my articles.
Disclosure: I am/we are long KHC.
I wrote this article myself, and it expresses my own opinions. I am not receiving compensation for it (other than from Seeking Alpha). I have no business relationship with any company whose stock is mentioned in this article.
Additional disclosure: I am long KHC with an average cost base of $60.57