The Weather Network – Prairies: Thunderstorm risk returns, fight for late August warmth
3 min read
Wednesday, August 14th 2019, 2:15 pm – A thunderstorm risk stretches across the Prairies through Thursday ahead of a significant cooldown that threatens summer snow for some.
The thunderstorm risk returns to the Prairies with the threat for a few storms to strengthen to severe levels through Thursday. That's ahead of a dominant cooling pattern that will leave parts of the region struggling for any late summer heat to round out August. More on the biggest storm risk areas below, plus a look at what's complicating the weather pattern into next week.
---
WEATHER HIGHLIGHTS:
Scattered thunderstorms expected as energy builds along the Alberta/Saskatchewan border and the southern Prairies through Thursday
Some storms may turn severe with heavy rain, large hail and strong winds the main risks along the foothills
Temperatures drop below seasonal to round out the work week
Stay up-to-date on the latest ALERTS in your area
---
FUTURE RADAR: SCATTERED THUNDERSTORMS AHEAD FOR THE PRAIRIES
While scattered showers marked much of the morning across southern Alberta, thunderstorms will mark the aftenoon and evening for many as storm energy builds along the southern foothills.
The storms are expected to initiate through the early afternoon hours along the extreme southern foothills, spreading across the rest of southern Alberta and into southwestern Saskatchewan through the afternoon and evening.
"Storm dynamics are not overly favourable for widespread severe thunderstorms, but there is the potential for a few storms to strengthen to reach severe limits," says Weather Network meteorologist Kelly Sonnenburg.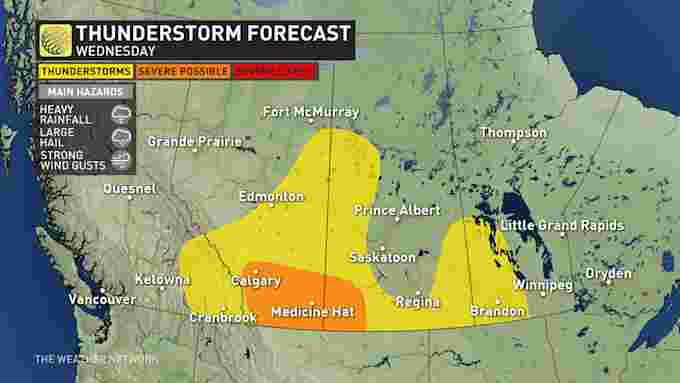 Large hail and powerful winds would be the primary threats with stronger storms that do develop.
By Thursday, the trough travels east, bringing showers and the risk for thunderstorms to eastern Saskatchewan and southern Manitoba as temperatures remain near seasonal — in the low to mid 20s — across the southern Prairies.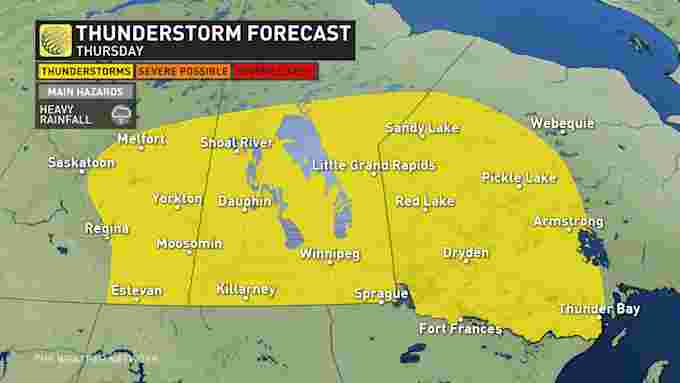 TEMPERATURES DIP BELOW SEASONAL, THREAT FOR SUMMER SNOW
"Cooler temperatures take over Alberta on Friday with daytime highs dropping to the mid-teens for Edmonton and Calgary as an upper level low swings down from the north," Sonnenburg says.
A surface low will also accompany the upper level low, bringing widespread rain across northern Alberta and Saskatchewan.
FROM THE MET DESK: WATCHING FOR AUGUST SNOW IN THE ROCKIES
Temperatures will remain chilly across the northern Prairies through the weekend, as we watch the threat for some late summer snow in the Rockies Friday night and into early Saturday.
This cool and unsettled pattern dominates the next two weeks across the Prairies as well, although computer models continue to flip flop on the details.
"That's as the models struggle with handling the impacts on the patterns from the two super typhoons that formed in the western Pacific last week," says meteorologist Dr. Doug Gillham. "However, it appears that original ideas are back on track with cooler weather dominating across the Prairies, but with a fight for warmth at times across the south."
WATCH BELOW: KANGAROOS BOUNCING IN THE SNOW IN AUSTRALIA IS SOMETHING YOU DON'T SEE EVERYDAY